Tribu de Trueno is an independent project born from the desire to build a space for artistic production in Bariloche, where local, national or foreign projects can find refuge, that have a collaborative motivation, a reflective spirit and a sincere walk.
We propose two residency programs: one for project work and the other for collaborative work, where creative processes are shared with local artists.
We are interested in linking these practices with our territory, through meetings, open studios, workshops, talks, fairs.
THE HOUSE
La tribu lives on a small mountainous elevation, its windows hypnotize and show us Moreno lake and Nahuel Huapi lake.

Our city, Bariloche, is one of the most important in Patagonia. It receives many visits every year. People inspired by its landscapes and its history.
Each season intensely transforms the colors and sensations that nature gives us.
It is a city with an identity under construction, where the Mapuche cosmogony, tourism, and constant migrations constantly intertwine and collide.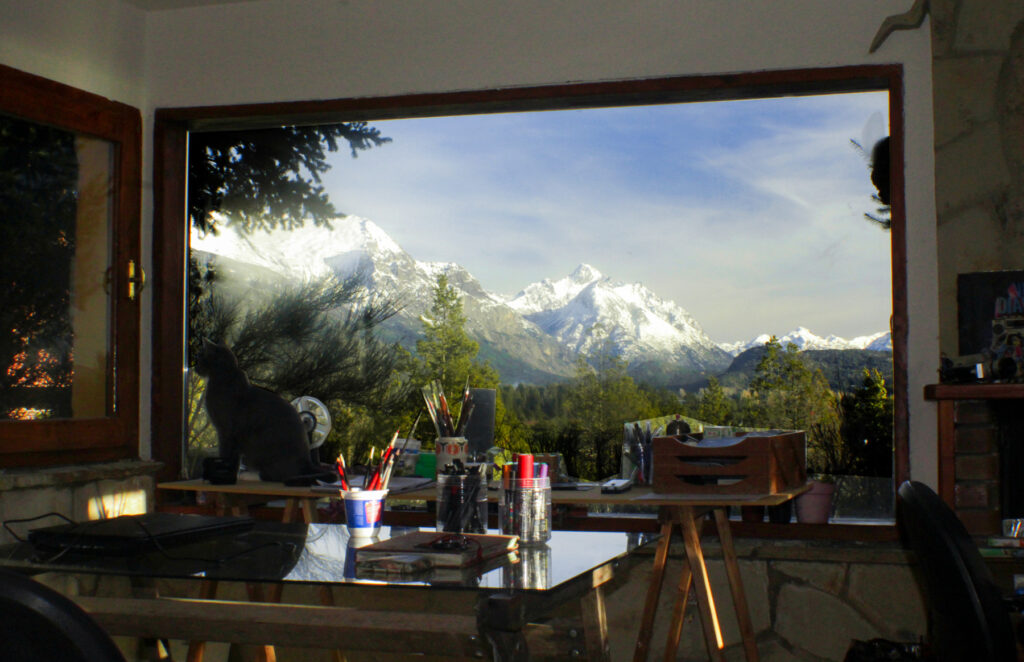 our team
BAR VISCONTI, ART DIRECTOR
---
I am a graphic artist, lover of screen printing, in almost all its variants of existence. The possibility of autonomous image reproduction, which this technique gave me, made me able to share my drawings and ideas in many projects and experiences, with others.
I believe in self-management, and collaborative work as supports for my creative work.
It inspires me to live and feel, between mountains. I am looking for answers in the mysteries that are hidden there.
COLLABORATING ARTISTS
---
COLLABORATIVE WORK RESIDENCES
how to apply
air program 2022
If you are interested in working on a project, sharing with other artists, getting to know our city and its people,
fill out our application form. These are just a few questions that will help us to get to know you
and to be able to offer you an experience that honestly dialogues with your expectations and wishes.
Once the form is completed, we will contact you to set up an online meeting.
If you have questions or want to contact us before submitting your application,
please write to tribudetrueno@gmail.com